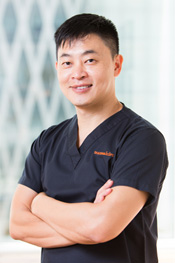 Ng Chong Ching 
(Physiotherapist, specializing in Manual & Osteopathy treatment)
Professional Credentials
Msc Exercise & Sport (NTU, Spore)
Master Manual Therapy ( UWA, Aust)
Grad Cert Orthopaedic Manipulative Therapy (Curtin, Aust)
Bsc Physiotherapy (Curtin, Aust)
Dip Osteopathy (OCO, Canada)
Dip Biotechnology (SP, Spore)
DBC Certified
Manual medicine is suitable for people of all ages who may have a wide variety of aches, pains and dysfunctions within their body. Manual medicine has both treatment and preventive components. It can be used to treat a condition as well as prevent a possible dysfunction or problem from arising.
For the adult and elderly clients:
Manual medicine can be prescribed for most forms of musculoskeletal disorder and pain. The following table illustrates some of the most common conditions that are presented clinically with effective treatment from manual medicine: 
Conditions treated are by our Physiotherapist, specializing in Manual & Osteopathy treatment:
Spinal disorders and pain
Neck pain: Stiff neck, neck strain, neck ache, sprained neck
Shoulder pain: Frozen shoulder, shoulder blade pain, stiff shoulder, shoulder ache
Back pains: Lower back pain, back muscle pain, lower back ache, pain in lower back
Sport Injuries: Sports massage, physiotherapy, physical therapy, physio treatment
Neuropathic and neurogenic pain: dizziness, giddiness, vertigo treatment
Orofacial pain
Orthopaedic conditions
Viscerals-related disorders and pain
Any Chronic pain syndrome
Remove your pain today!